Hide other Mixed In Key products

Odesi Music Composition
This software helps you write melodies, basslines and chord progressions. Accelerate your music production!

Mixed In Key 7.0
Use the world's favorite harmonic mixing software.

Platinum Notes 4.0
Improve your whole music collection. Designed to make Beatport and iTunes tracks sound even better.

Beyond Beatmatching Book
We wrote a book about how to get club residences and play amazing gigs. Read our interviews with Sasha, Marku Schultz and many more.

Mashup 2.5
Create your own mashups and remixes. This is our ultra-fast audio editor.

MetaBliss 1.0
Create perfect ID3 tags. Clean up and improve your Serato, Traktor and iTunes playlists.
View all Mixed In Key products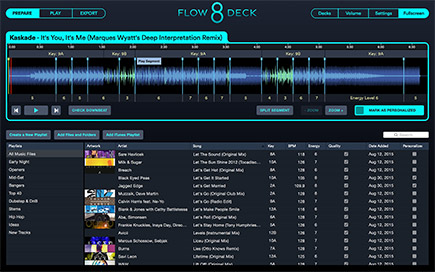 The Workflow
Flow's workflow is different from other DJ software. When you add your music files, they show up in the Preparation screen, and Flow calculates the "beatgrid" for each file. It also analyzes the verse/chorus/breakdown structure and sets automatic cue points where there is an interesting change happening inside the track. You would typically see 5 to 12 changes in your audio wave. These cue points are fully customizable.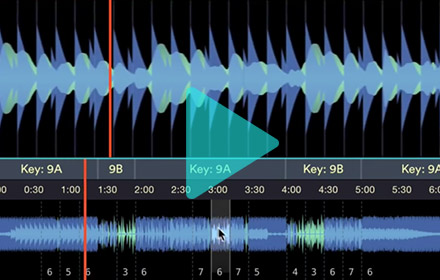 Dimensional Mixing
You can choose a different path through each track. Instead of playing it unchanged from beginning to end, you can re-arrange the track live, without skipping a beat. When you click on any of your cue points, Flow will seamlessly fade into that section of the track.
You can skip the Verse, play a longer Chorus, and extend the breakdown or any other idea you can think of. You can also loop any segment and tweak the sound with effects. This adds a third dimension to your mixing because you're no longer bound by the limitations of the MP3 file created by the music producer. Every track you play becomes your own personal remix.